In Memory
Tessie Tryfon (Faculty)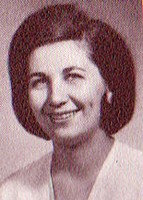 East High Leopards
Class of 1965

Deceased Classmate: Tessie Tryfon, faculty
Date Of Birth: 1938
Date Deceased: 2009
Age at Death:
Cause of Death:
Classmate City:
Classmate State:
Classmate Country: USA
Survived By:

Tessie Tryfon Menechios was born April 17, 1938, in Salt Lake City to Chris and Georgia Tryfon. She passed away at her home on Tuesday, December 12, after a long battle with cholangiocarcinoma (bile duct cancer). She had an idyllic childhood in Salt Lake. She and her friends would watch Gene Autry cowboy movies and re-enact them in the gully and creek by her house. She loved going on family picnics in the canyons. After she graduated from the University of Utah, she taught at East High School, then one of the top ten high schools in the country. She won teaching awards for her demanding history courses. She was well-loved and was very proud to keep in touch with many of her former students, even 40 years after she stopped teaching. In 1968, she married Charles Menechios and moved to Palos Verdes Estates where she raised her family. She maintained close ties to Salt Lake City, while making lifelong friendships in California. She was an active member of the Greek Orthodox Church in Salt Lake City and Redondo Beach. She sang in the choir as a young woman and served as vice-president of Philoptochos. An excellent cook, she was known for her fruited sherbet, baklava, and sweet potato casserole. She also enjoyed gardening and loved her roses. She instilled her love of the ballet, classical music, and art in her daughters. She is survived by her loving and devoted family, husband Charles; her daughters, Katherine Frazier (Don) and Stacy; and two granddaughters. Also her brother, George (Pam) Tryfon; and many nieces and nephews. Funeral services will be held at St. Katherine's on Saturday, December 12 at 11:30 am. A viewing will be held Friday at St. Katherine's from 6pm to 7pm, with Trisaigion services beginning at 6:30pm. In lieu of flowers, donations may be made to St. Katherine's Greek Orthodox Church, 722 Knob Hill Ave., Redondo Beach, CA 90277.

Sender's IP Address: 24.40.80.190

View the geographic location of this IP Address

Click here to report this as spam

This message has been sent to you from bwgledhill@comcast.net. You cannot reply directly. Click here if you wish to start a new email to bwgledhill@comcast.net.


To change or discontinue these email notifications manage your Notify Me settings.