In Memory
Joyce Warburton (Faculty)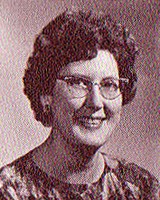 Emily Joyce Warburton died on March 11, 1997, Salt Lake City, Utah. She was born on April 27, 1934, in Tooele, Utah, daughter of Fred and Naomi Palmer Warburton.
Joyce graduated from Tooele High School and attended the University of Utah on a Ford scholarship. She graduated from the University of Utah with a BA in English and taught at Tooele High School for two years. She then taught honors English and Latin at East High School for 35 years. During her tenure at East High, she received a sabbatical to attend the University of Minnesota where she earned a MA in the Classics.
Joyce was an active member of the Zeta chapter of Delta Kappa Gamma.Preceded in death by her parents; her sister, Lenore Mills Haig; and her aunt, Emily Warburton. Survived by her sister, Bernice Mills (Therol) McArthur of Cedar City, Utah and her uncle, Ray (Julia) Warburton of Boston, Massachusetts. Also survived by nieces and nephews: Sharol (Paul) Janosik and Glade (Linda) McArthur of Las Vegas, Nev.; Preston Haig of Chicago, Ill.; Barbara (Bill) Carrane of Minneapolis, Minn.; Tamra (Ron) Bolander of Sandy, UT, as well as cousins and great-nieces and nephews.
©Deseret News, Friday, March 14 1997 12:00 a.m. MST