In Memory
Raymond Edvalson (Faculty)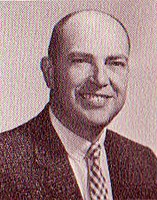 Raymond Conrad Edvalson, 86, beloved husband, father, grandpa and friend, passed away peacefully at home on Friday, June 12, 2009. He was born in Ogden, Utah on September 20, 1922 to Josephine Parry Thomas and Merlin Conrad Edvalson. He served as Lieutenant Junior Grade in the U.S. Navy from 1942-1946.
He met his eternal sweetheart, Trudy Day at the University of Utah, and they were married in the Salt Lake Temple on November 26, 1947 by President David O. McKay.
He received his BS degree in Art in 1948, his Masters of Fine Art in sculpture in 1949, and his secondary teaching certificate in 1950 from the University of Utah.
He had a distinguished career as an art instructor at East High School, assisting many students to receive awards and direction for life long careers in art. As a faithful member of the LDS Church, he served in many capacities including counselor in bishoprics, ward clerk, Sunday School president, YM president, scout leader, High Priest Group leader, stake missionary, and loving home teacher. He is survived by his wife, Trudy, three daughters, Trudy Lynne (Jim) Adams, Joanne (Jim) Fraser, Carrol (David) Glade; 16 grandchildren, 35 great-grandchildren, brother Don Edvalson, brother-in-law William H. Day (Nancy), and sister-in-law Beth Edvalson.
©Salt Lake Tribune, 13 to June 14, 2009