In Memory
Eddie Schiess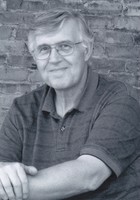 Birth:
Dec. 27, 1946
Salt Lake City
Salt Lake County
Utah, USA
Death:
Jul. 7, 2011
Salt Lake City
Salt Lake County
Utah, USA

Edwin Florin Schiess, of South Jordan, Utah, passed away on July 7, 2011 at the University of Utah Medical Center due to complications from cancer.

He was born in Salt Lake City, Utah on December 27, 1946 to Florin and Melva Schiess. Ed gave unconditional love and patience to his Ellen and was an example of a perfect husband, father, and grandpa. His four daughters enjoyed many 'daddy-daughter' dates for pizza and long, loving walks and chats.

There were many days with him lying on his tummy on the floor with little guys watching trains circle while carrying cows and robots in their box cars. The family cherishes many years of seaside memories from trips to Manzanita Beach together.

The silly comments at Family Home Poker Night still make us giggle to remember. His love for steam trains had Ellen and Ed riding the rails from Silverton to Skagway. Camping trips with dear friends and playing board games by firelight were fond memories for Ed.

Most of all Ed loved his home where patio dinners became a daily routine and his huge train room fulfilled a lifelong dream. All of his immediate family were in town with the exception of the twins who are fulfilling missions in Taiwan. We had planned a family reunion for this week. We didn't know it would also be a farewell.

Ed is survived by his wife, Ellen and his four daughters: KJ (Ned) of Beaverton, Oregon; Hilary (Patrick) of Tigard, Oregon; Kathie (Mike) of West Jordan, Utah; and Addy of Boulder, Colorado. He has seven grandchildren. He is preceded by his son, Danny.

Funeral Services will be held on Monday, July 11, 2011 at 3:00 p.m. at McDougal Funeral Home, 4330 South Redwood Road (1700 West), with a viewing at 2:00 p.m. prior to the funeral services.
Interment: South Jordan City Cemetery.
Published in the Deseret News from July 9 to July 10, 2011.