In Memory
Connie Rohner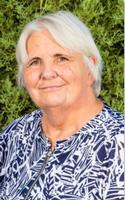 Conda "Connie" Rae Rohner passed away on December 15, 2021 at her home is Salt Lake City, Utah.
The family has shared the following thoughts about Connie:
"The world has lost the purest soul I've ever known. To me she was so much more than "Aunt Connie"; she was a mentor, coach, and mother figure throughout my childhood into adult life. I can't remember a single sporting event or summer activity without her there supporting me. Simply put, she shaped me into the man I am today. I'll remember her for our long, meaningful conversations that always had me leaving in a better mood than when I came. She taught me so much and leaves behind countless great memories that I'll cherish forever."
"Connie loved her family more than anything. Her spirits were always lifted after a visit or chat with them. She was so proud of her niece and nephews. She also loved her cats and her neighborhood. Although she lived her whole life in the city, she admitted to being a country girl at heart. She loved being outdoors and was happiest working in her yard or in the garage.
Connie claimed not to be an artist, but she was able to find beauty in so many things and people. She was generous in spirit and judgement. She always had a hello for passers by and loved lively conversation with friends and neighbors. The neighborhood will not be the same without Connie trimming her bushes on a warm summer evening."
"Connie loved the Lord and never doubted His love for her. Surely she was welcomed warmly back into His presence"
"My dear Aunt Connie was a beautiful, sensitive and caring person. Her positive influence touched me life in many ways. She guided me, taught me and inspired me. We shared so many life experiences; laughing, crying, listening and supporting each other. Her love was true and strong. I will always miss her brilliant mind and gentle soul. Rest in love till we meet again."
Connie was also known as a superior athlete and coach during her youth as well as in her younger years. She loved playing as well as impacting the lives of her athletes while coaching and mentoring them.
Connie will be laid to rest at a private Graveside Service on Tuesday January 11, 2022 at 12:00 pm at Larkin Sunset Gardens, Sandy Utah.
https://www.larkinmortuary.com/obituary/view/conda-%22connie%22-rae-rohner-87