In Memory
Gayle McRae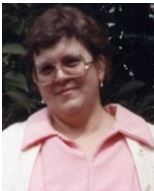 Mildred Gayle McRae, 1947-2013, loving daughter passed away on November 5, 2013. Gayle was born August 26, 1947 in Salt Lake City, Utah to Ambers and Mildred Walker McRae. Her mother and dad had waited thirteen years to be blessed with this beautiful baby girl. She was their only child and they loved her very much. She grew up in the Garden Park LDS Ward.

The McRae family was very close and had lots of fun together. Gayle spent a lot of time with aunts, uncles and cousins. They enjoyed camping, loved the beautiful canyons, and fishing on the banks of the rivers and lakes.

Gayle graduated from East High School in 1965 and went on to obtain her Nursing Degree from Brigham Young University and began working on the Red Cross Blood Mobile. She also worked as an aide in an elementary school.

In 1972 she received her mission call to Argentina for the Church of Jesus Christ of Latter-day Saints. She loved her mission and was proud and happy about her service. It was the highlight of her adult life, always sharing experiences.

She enjoyed reading the scriptures and many books, crocheting, and playing the piano. She enjoyed her church calling as Primary pianist in the Wilford 1st Ward.

Special thanks to the staff at Rocky Mountain Care Murray for their loving care of Gayle for nearly 13 years. These caring people were like family to her. Thanks also to Rocky Mountain Care Hospice for providing her with extra care.

She is preceded in death by her father and mother. She is survived by several cousins.

There will be a viewing at Murray Memorial Mortuary, 5850 South 900 East, Murray, Utah on Monday, November 11, 2013 from 9:30 a.m. to 10:30 a.m. followed by a graveside service at Wasatch Lawn Memorial Park, 3401 South Highland Drive, Salt Lake City, Utah at 11:00 a.m. that morning.
Murray Memorial Mortuary & Cremations