In Memory
Janet Jenkins (Boulton)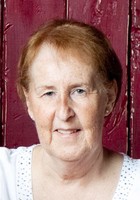 Janet Jenkins Boulton
1947~2015
Janet Jenkins Boulton, our loving wife, mother, grandmother, and sister, peacefully passed away, Tuesday, May 12, 2015 in American Fork, Utah. Janet was born January 21, 1947 in Salt Lake City to Dwight Curtice and Ruth Dixon Jenkins. She attended BYU and graduated with a BS degree in Education.
Janet married Alex C. Boulton December 28, 1973 in the Salt Lake Temple. They are the parents of three sons and one daughter. A devoted wife and mother, Janet lovingly served her family and they were her greatest joy. She was an elementary education teacher, teaching third grade. She was also the owner of Custom Coordinates, a home interior business. Additionally Janet worked for The LDS Motion Picture Studio in the wardrobe department. She loved to play tennis and was the winner of numerous individual and team tournaments. She also enjoyed playing the piano and instilled a love of music in her children.
A member of The Church of Jesus Christ of Latter-day Saints, Janet served in various positions including many years in the Primary and Young Womens organizations. She also served as Young Womens President.
Janet is survived by her sweetheart, Alex; children, Curtice (MaryKai), Chad (Olivia), Jeremy (Rachelle), and Emily (Scott) Davis. She also leaves behind her eight grandchildren and two sisters, Mary Lloyd, and Patricia (Bill) Ronnow. She was preceded in death by her parents, Curtice and Ruth Jenkins.
Funeral services were held Saturday, May 16, 2015 at 11:00 a.m. at the Salem 2nd Ward Chapel, 60 S. Main Street, Salem, Utah. Family and friends may visit Friday, May 15, from 6:00-8:00 p.m. at Walker Funeral Home, 187 S. Main Street, Spanish Fork, and on Saturday at the church from 9:45-10:45 a.m. prior to services. Interment in the Salem City Cemetery.