In Memory
Jim Brinton VIEW PROFILE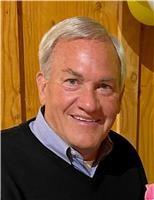 January 21, 1947 ~ January 17, 2022

James Ashby Brinton arrived quickly into mortality. His mother reported she barely made it to the hospital on January 21, 1947 in St. Louis Missouri. And he left this life quickly, the way he wanted to, watching one of his grandsons play soccer in a tournament in Mesquite, Nevada on January 17, 2022. He was laid to rest on his 75th birthday at the base of Mount Timpanogos, a majestic mountain looming high over the valley where he raised his seven children, practiced medicine and built a home that welcomed all - foreign, friend or those who needed his love and guidance. A larger than life, son of God has graduated but his legacy, influence and love will still remain as a mountain of strength to all who knew him.

Jim came to earth with a boat load of energy and a bright, inquisitive mind. He was raised in Salt Lake City, Utah by two dynamic people, Sherman Simons Brinton, a physician who performed the first cataract surgery as a fully trained Ophthalmologist in Utah, and Susan Bona Ashby Brinton, an accomplished educator, mother and homemaker. He was the oldest of six boys, Richard, Gregory, Eliot, Daniel and Mark. His older sister Susan Brown blessed and tempered his position in the Brinton troupe as he was the one who raised the dust off the table as he swirled through their lives.

He loved life, and serving, leading and befriending people came naturally to him at a young age as he earned his Eagle, was elected student body president of East High School, Governor of Boys State, played on the East High football 1965 state championship team and took state in wrestling. Wherever there was a competition, sporting event or social happening, he was in the middle of it! He went on to earn an undergraduate degree from the University of Utah in Psychology in 1971, along with serving in many student government positions. Jim continued his education by earning a medical degree in 1975 at the University of Utah where he was awarded the Outstanding OB/GYN student award doing research with his professors on the labor-inducing drug Pitocin. He completed his internship and residency at William Beaumont Hospital in Royal Oak, Michigan and began his Obstetric and Gynecological medical practice in Provo, Utah at Utah Valley Hospital in 1978. He later practiced at Timpanogos Regional Hospital in Orem, Utah and Mountain View Hospital in Payson, Utah, retiring in 2004. Dr. Brinton loved his profession and felt bringing babies into the world was the most uplifting and heavenly of all professions. His patients appreciated his warm and caring heart and optimistic, energizing personality. His nurses had to endure a backed up waiting room at times, as he couldn't resist lively, lengthy conversations with each patient. He made the experience of pregnancy and birthing a joyous occasion. He couldn't help spreading happiness every day no matter his circumstance. He lifted and healed many hearts throughout his life because his faith in Jesus Christ and love of his fellowman was contagious.

Jim considered his greatest accomplishment was finding his wife Barbara Taylor Bradford. They met at a wedding reception where she caught the bride's bouquet, a sign the Lord wanted him
to know she was a great catch! They were married in the Salt Lake Temple on April 16, 1971. His greatest joy was raising their seven children starting with the twins, Matthew and Melissa, Emily, Laura, Jamie, Ryan and Rachel. Jim and Barbara built their children a large home where they could create many great learning experiences of serving others, lifting those who needed love, working and playing hard and constantly inviting people to enjoy their weddings, family reunions, ward activities and parties in their backyard and home. This was fuel in Jim's engine, to spend his time helping and serving others. Their family trips to Lake Powell were filled with starry night-time lectures on top of the houseboat about God's organization of our beautiful world. No one had the endurance he had when it came to water skiing or hiking. His family and friends will miss the energy spilling out of him and the lively conversations about BYU sports and politics.

Jim was a faithful member of The Church of Jesus Christ of Latter-day Saints. He served a mission in the Central German Mission from 1966-1968. He loved being a bishop because of his great love for the youth. He loved teasing and encouraging the members of a senior living center when he served in a church branch, and he especially loved serving at the Missionary Training Center, because his whole life was one big mission of enthusiastically sharing the good news of the gospel of Jesus Christ. He has always loved the Savior, has constantly feasted on His words and shared the many truths of the doctrine of Christ with his beloved family and friends.

No one has been more bold and enthusiastic about sharing the restored gospel of Jesus Christ than Jim Brinton. Jim and Barbara always set the table with the Book of Mormon as they gathered their children before school.

Jim leaves behind 28 grandchildren who adore him. He rarely missed any of their activities. It was never too late or inconvenient to drop what he was doing and serve them. His discussions about religion, science, sports or anything of interest in their learning were deep and meaningful. No one was as engaging, fun or loving as their Papa. He was their hero and role model and they truly felt his sincere Christ-like love for them.

One of Jim's favorite scriptures was simply put in 1st John 4:19 "We love Him, because He first loved us."

Jim's moto was a quote from President Theodore Roosevelt which describes his feeling about living one's life joyously, boldly and with a happy heart full of gratitude:

"Far better it is to dare mighty deeds, to win glorious triumphs, even though checkered by failure than to rank with those poor souls who neither suffer nor enjoy much because they live in a gray twilight that knows neither victory nor defeat."

A celebration of his life will take place Saturday, January 22, 2022 at 11:00 am at the Vineyard Sixth Ward Stake Center, 422 East 400 South, Vineyard, Utah, 84058.
https://www.legacy.com/us/obituaries/deseretnews/name/james-brinton-obituary?id=32322655
Click here to see Jim's last Profile entry.