In Memory
Melva Guiver (Faculty)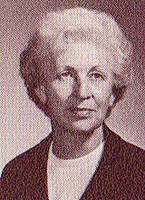 Melva Lillian Guiver , age 90, a career teacher, devoted daughter, sister and aunt died 20 Oct 1998, at home in the comfort of her family. She was born 7 January 1908, and she was the eldest of four children born to C. Bert Guiver and Lillian Lawless Guiver. As had her pioneer forefathers who helped settle Pennsylvania, Virginia, Michigan and Utah, Melva's life exemplified great faith, self-discipline and determination. Her life was a sermon of compassion, generosity, commitment and dedication. Melva taught virtue and truth by her example. She always cared more for others than herself, and she was always ready to adopt another stray animal. Her sharp mind and strength of character were with her to the end.
Reading was Melva's passion and that led her to become a teacher and a dedicated librarian. She entered the teaching field during an age when women could not be married and teach; hence the name career teacher. This practice ended during World War II because of the lack of teachers. Melva's teaching career spanned 45 years. In 1928, she began teaching elementary education in Woods Cross and Farmington, UT. Later, in Salt Lake City, she taught at the Franklin and Oquirrh Elementary Schools. She was librarian at Wasatch Elementary, Bryant Junior High and East High. She was a visiting instructor of Library Science for the years 1960, 1961 and 1962 at the University of Utah. After 19 years at East High, she retired. Melva's educational degrees were a B.S. in Elementary Education, an M.S. from the University of Utah and a Library of Science degree from the University of Denver, Denver, Colorado.
Melva was a devoted member of First United Methodist Church, Salt Lake City, for 90 years. She taught Sunday School for 25 years. After moving to Fruit Heights, UT in 1978, she greatly enjoyed worshipping at Westminster Presbyterian Church in Fruit Heights. Melva was a member of United Methodist Women, the Utah Education Association, Delta Kappa Gamma Sorority, Mizpah Chapter of The Eastern Star, The Humane Society and The Hibernian Society.
Her survivors are: sister, Marian Guiver Runnells and brother-in-law, Robert R. Runnells of Fruit Heights; sister-in-law, Virginia M. Guiver, Salt Lake City; nieces, Janet Sue (Sooka) (Patrick) Kelley, Wichita, KS; Robyn R. (Rodney) Larkin, Fruit Heights; Shirley G. Hancock; Marcia G. (Mel) Mackay and Carolyn G. (David) Nelson, all of Salt Lake City; Ginger G. Snyder, Front Royal, VA; nephew, Clare B. Guiver (Mary) Sunset, UT; and many great nieces and nephews. Preceding Melva in death were her parents and brothers: Ray L. Guiver and Clarence B. Guiver, Jr.
© Salt Lake Tribune, October 22, 1998